Today we're showing you how this vision came to life with a mini reveal of a BIG project we've been working on. It's kind of a sneak peak. A trailer. Who doesn't love a good trailer?!
This is the entryway of our Windsor Project.
And here's a side-by-side before and after photo - such a fun transformation.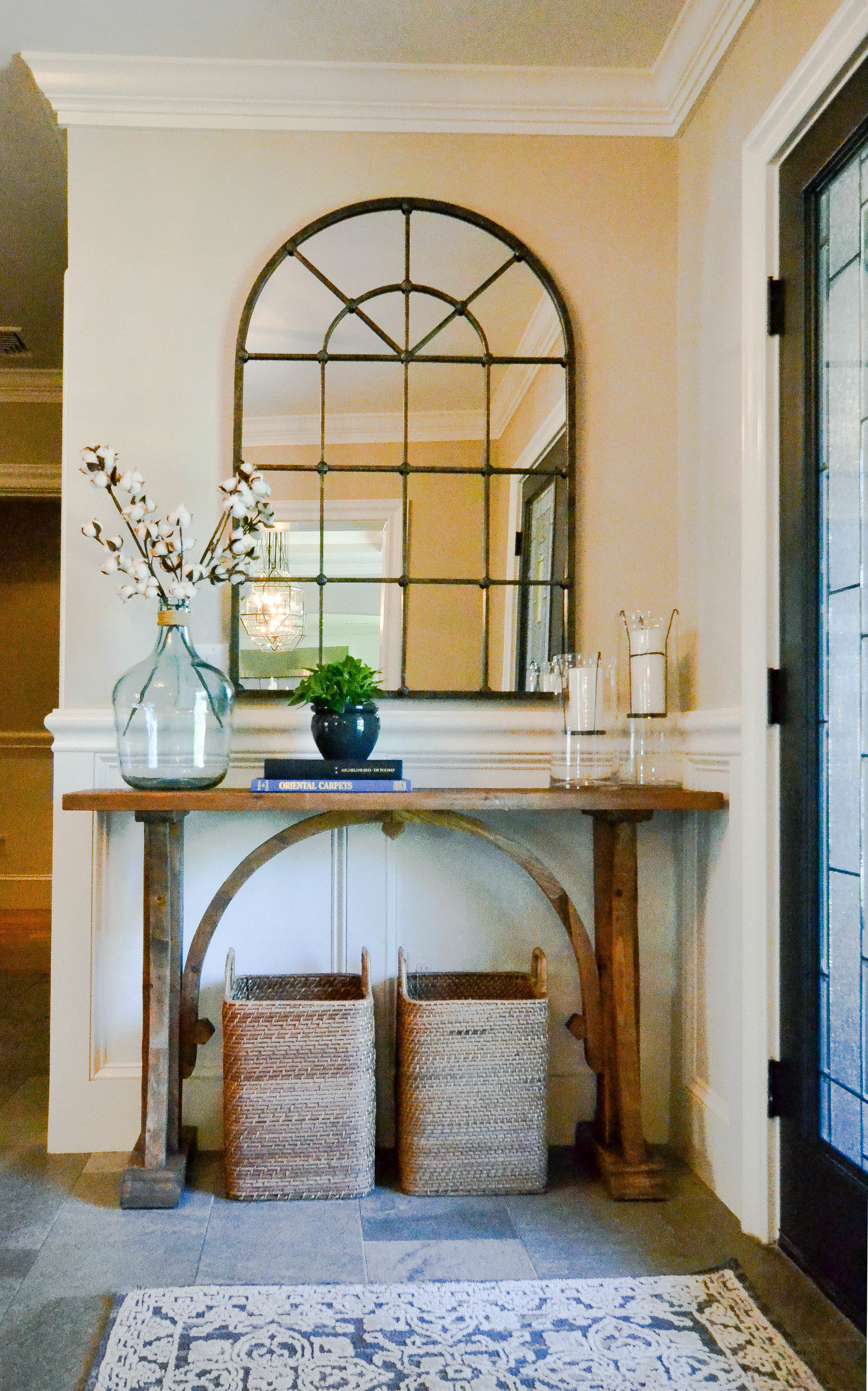 This is the formal entryway for the home - there is a separate, family entrance off the garage. This meant we didn't need to focus on coat and shoe and key storage (much like our Southend Project). Instead, the goal was to create a beautiful and welcoming space with a touch of function.
We started with the key pieces - a console table, mirror and light fixture. Proportion was key. This is a relatively big space, so we needed pieces to fill it but not overwhelm it.
The console table is great because it's substantial and at the same time the open, arched design keeps it light. We chose a window pane mirror because it's elegant and almost architectural, which plays well with the wainscoting and crown molding. And, of course, it reflects the natural light streaming through the front door. The pendant light has no glass (easy to clean) and the open, round design compliments both the mirror and the table.
Next came the fun, finishing touches. The faux cotton stems are so beautiful we had a hard time parting with them. They look so real! The little plant (pepperomia), on the other hand, looks so fake...but it's real. And the cute, gray/blue pot is self-watering. Did you know such a thing existed? Perfect for the plant lover whose love isn't shown in proper watering. The vintage books are another favorite find. Sonia went to a local used bookstore and scored as many vintage art books as her little body could carry (hint: you'll see more vintage books when the full project is revealed).
This transformation is a wonderful example of how small spaces can have big impacts. Don't underestimate how changes to small and seemingly insignificant corners of your house can affect your whole house (and mood!). Starting in the nooks and crannies of your home is a manageable way to give you motivation to tackle the bigger projects.
Here is your source list to shop these finds. Enjoy!
Console table - Houzz (get %5 off with our code: 4E318)
Rug - Magnolia Home
Mirror - Houzz (get 5% off with our code: 4E318)
Pendant light - Boston Interiors
Recycled glass jug - Houzz (get 5% off with our code: 4E318)
Cotton stems - Terrain (We got ours at Anthropologie but they're sold out. Boo. Thankfully the dried cotton stems at Terrain are seemingly identical!)
Hurricanes and candles - HomeGoods (here are two similar ones from World Market: here and here)
Baskets - West Elm
*This post contains affiliate links*